Caring Assemblies
Caring Assemblies
Caring Assemblies
Caring Assemblies
Designing for better futures
Caring Assemblies. Designing for better futures proposes the creation of a discussion forum, a public distribution program and a space for debate and friction around narratives for the near future. The forum will involve a group of relevant speakers and players within contemporary trends of design and spatial, territorial, feminist and ecological thinking, and will promote a calendar of public presentations directed to local PDB '21 agents. To close the program, a collaborative workshop based on the game The Quiet Year will serve as a space for collective speculation about the possible paths after a civilizational collapse.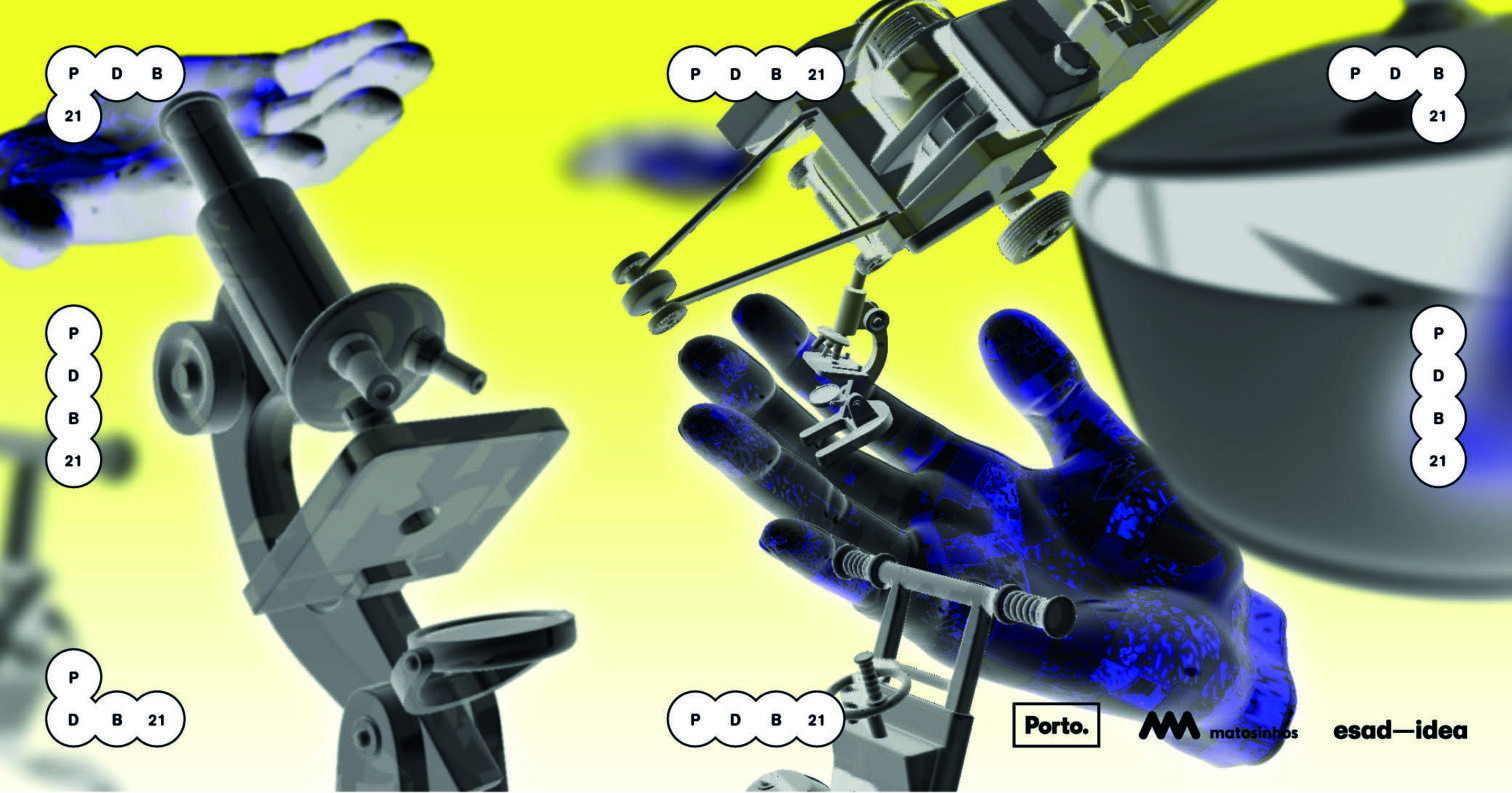 Talks | Day 1
July 7th – 5:00-8:00 PM
Anna Puigjaner + conversation with Paulo Moreira
Ana Naomi de Sousa and Bernardo Amaral + conversation with Sinho Baessa de Pina
Online, English
Anna Puigjaner

Anna Puigjaner is an architect, researcher and editor based between Barcelona and New York, uniting theory and practice by combining academic, research, and editorial work with the professional activity of the architectural office MAIO. Anna is an Associate Professor at Columbia GSAPP and received Harvard GSD's Wheelwright Prize in 2016. She previously taught at the Royal College of Art and the Barcelona School of Architecture. Her ongoing research and writing on the "Kitchenless City" has been published in different forms, including in The Quantified Home (Lars Müller Publishers, 2014) and Together! The New Architecture of the Collective (Ruby Press, 2017).
Paulo Moreira

Paulo Moreira is a Porto-based architect and researcher. He graduated from FAUP (Porto, PT), having studied also at the Accademia di architettura (Mendrisio, CH). Paulo received his doctorate from London Metropolitan University (UK), and currently he is a post-doctoral fellow in the research project Africa Habitat, coordinated by FAUL (Lisbon, PT), funded by FCT and AKDN. With his work on informal communities in Angola, he was a finalist in the RIBA President's Award for Research 2019, Cities & Community category, and a recipient of the 2021 Grant to Individuals, awarded by the Graham Foundation.
Ana Naomi de Sousa

Ana Naomi de Sousa is an independent documentary filmmaker and writer-journalist, who works on history, identity, culture and spatial politics. She is the director of The Architecture of Violence and Guerrilla Architect, and the filmmaker on Forensic Architecture's Saydnaya project, among others. She writes for Al Jazeera English, The Funambulist, The Guardian, et al.
Bernardo Amaral

Bernardo Amaral is an architect, researcher, and activist based in Porto. His Ph.D. research at FCTUC-DARQ focuses on design methodologies of self-organized architecture collectives working with right-to-housing movements. At his studio, BAAU, much of their practice deals with refurbishment of old buildings for affordable housing, partnering with associations like Habitar Porto. In collaboration with other colleagues and activists, he is also part of GATHU, providing technical assessment to right to housing movements and associations. Bernardo is also a tutor and lecturer in several workshops and seminars. Currently, he teaches a post-graduation course at ESAP.
Sinho Baessa de Pina

Sinho Baessa de Pina is a cultural worker, rapper (part of the group BFH – Bairro Fontainha HardCorre), dancer, community organiser and vice President of the Cavaleiros de Sao Bras community association, in Lisbon.
Talks | Day 2
July 8th – 5:00-8:00 PM CET
Jara Rocha + conversation with Ana Isabel Carvalho and Ricardo Lafuente (Manufactura Independente)
Mary Magic + conversation with Miriam Simun
Online, English
Jara Rocha

Jara Rocha works through the situated and complex forms of distribution of the technological with an antifa and trans*feminist sensibility. Tends to be found in tasks of remediation, action-research and in(ter)dependent curatorship, and their main areas of study have to do with the semiotic materialities of contemporary cultural urgencies. Together with Femke Snelting they are making a book titled Volumetric Regimes: Material Cultures of Quantified Presences and also with Helen Pritchard they currently work on The Underground Division: an emerging research on the co-constitution of the so-called body of the earth and the patriarchocolonial turbocapitalist volumetric regime. Jara works from the outskirts of Barcelona, where they are part of local processual projects like El Vector de Conceptualización Sociotécnica and 7G, at MACBA Museum.
Manufactura Independente

Manufactura Independente is a research studio for design and graphic communication focused on free/open source software, free culture and critical engagement with design tools. The studio is based in Porto and run by Ana Isabel Carvalho & Ricardo Lafuente. They experiment with the overlaps between the fields of design, free culture, media art, alternative type design workflows, playful data explorations, hardware archaeology, web development, print publishing, custom software and engagement with non-conventional tools.
Mary Maggic

Mary Maggic is a non-binary artist working within the fuzzy intersections of transfeminist hacking, body/gender politics, and eco-alienations. Maggic's most recent projects Open Source Estrogen generate DIY protocols for the extraction and detection of hormones from bodies and environments, demonstrating their micro-performativity and potential for increased body autonomy. They hold a MS in Media Arts and Sciences from MIT Media Lab, and have exhibited internationally including Philadelphia Museum of Art (US), Science Gallery London (UK), Haus der Kulturen der Welt (DE), Jeu de Paume (FR), and Institute of Contemporary Arts London (UK). Maggic is a recipient of the Prix Ars Electronica Honorary Mention in Hybrid Arts (2017) and a 10-month Fulbright research award in Yogyakarta, Indonesia (2019).
Miriam Simun

Miriam Simun works at the intersection of ecology, technology and the body. Their practice spans multiple formats including video, performance, installation, writing, and communal sensorial experiences. Of chief concern is the collision of bodies (human and non) with rapidly evolving techno-ecosystems. If collision can be understood to be a form of disturbance (in the ecological sense), then in disturbance we move through damage to an opportunity for renewal. Simun centers the sensorial as imperative for this renewal. Their work has been presented internationally, including Gropius Bau (Berlin), New Museum (New York), Himalayas Museum (Shanghai), The Contemporary (Baltimore) and the Bogota Museum of Modern Art (Bogota) and has been supported by Creative Capital and the Robert Rauschenberg, Joan Mitchell, and Onassis Foundations.
Workshop
July 7th – 6:00 -9:00 PM
O Instituto, Rua dos Clérigos 44, 4050-204 Porto, Portugal
Participants: 12 max
Language: Português
Inscription: info@bartlebooth.org
Mapeando futuros próximos is a hybrid between a card game and a mapping dynamic. Straddling fiction theory, playful thinking, role plays and shared drawing, we will collectively think about spatial constructions, social relations, material politics, and design culture of a near present, but yet-to-come. The workshop is open to 12 participants, there is no need for any specific background or skills, we will just need your imagination and critical thinking of the spatial reality that surrounds us.