Museum of Vibrant Matter
Museum of Vibrant Matter
( Exhibition )
( Workshop )
Museum of Vibrant Matter
Museum of Vibrant Matter
The Museum of Vibrant Matter, inspired by Jane Bennett's book, Vibrant Matter, asks us to pay attention and attune to our local biological, technical and hybrid materialities as an act of care towards ourselves, other living things, our soils, water and geology.
We view all materials, including waste, as "nutrients" within short, long or very long cycles available to all life. We draw on cultural memories and new material experiments to re-activate our sensorial and other knowledge about our local materials.
We shall make explorations in the local territories and hinterlands of the cities of Porto and Matosinhos to discover materials, identify co-inhabited worlds of matter, and to look for new intimate relations with our land, rivers and the sea. We search for vibrant, sympoietic material situations, novel socio-ecologies, and new "fabri-cultures" (cultures of fabrication). We exhibit material memories and new experiments, demonstrate material practices and co-construct a living archive of vibrant matter with designers, local experts and citizens.
The Museum of Vibrant Matter encourages us to adopt radical, yet humble, attitudes beyond anthropo-supremacy so we can collectively design preferable material futures that regenerate us, our communities and our terrestrial/aquatic/marine habitats.
Balancing inspiration with pragmatism, curiosity with playfulness, existing material(itie)s with potential material(itie)s, at the Museum of Vibrant Matter, we encourage people to become "material explorers".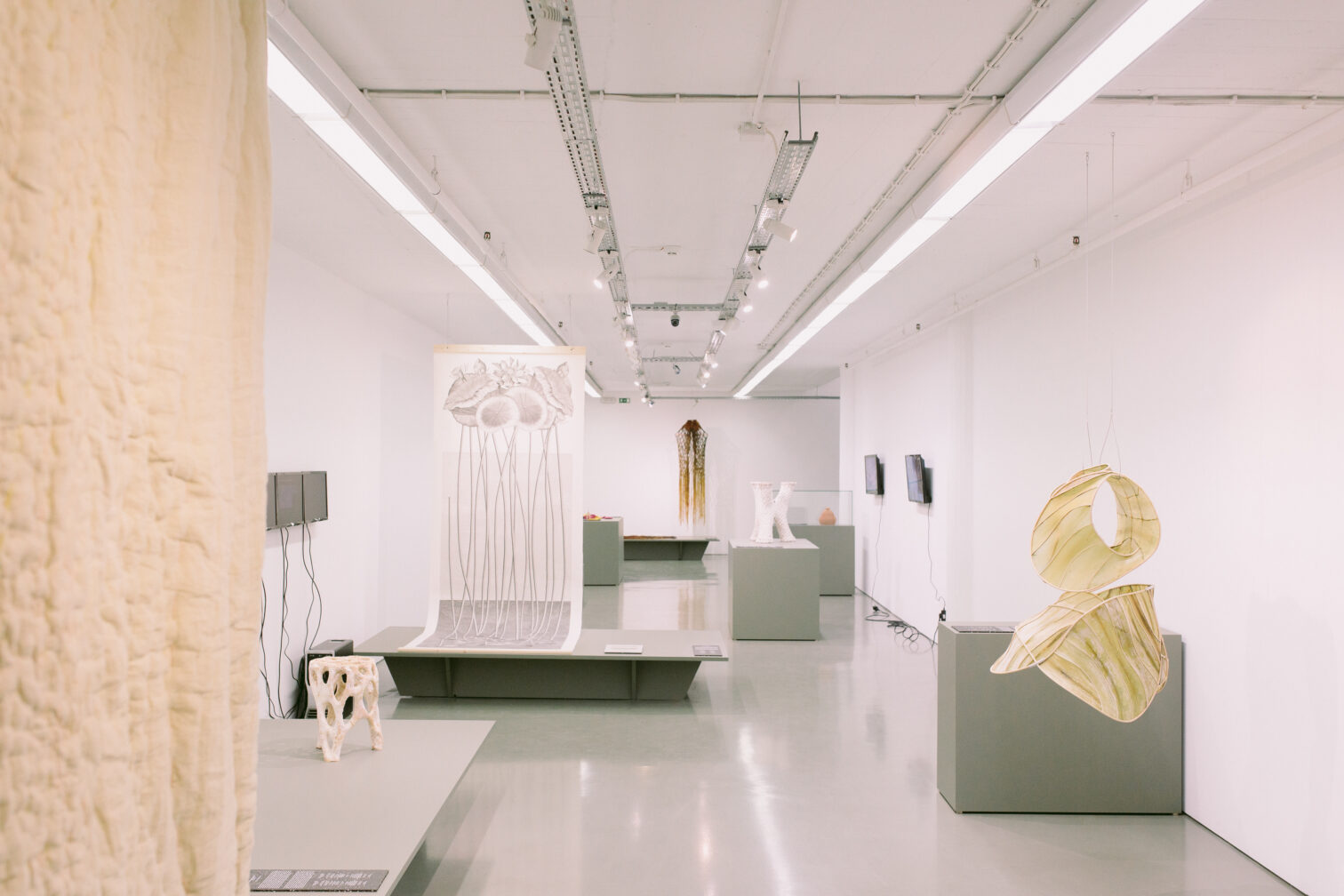 Museum of Vibrant Matter Elements
Matters of Material Concern

Matters of Material Concern is the reading room of the Museum of Vibrant Matter. Here you can will find the writings of designers, architects, anthropologists, philosophers, material scientists and others who challenge us to reflect on our relationships with living (biotic), non-living (abiotic) and hybrid materialities, and the processes we use to transform matter into other things.
Mat(t)erialities

Mat(t)erialities reveals experiments, prototypes and experiences beyond the materialisations of the market to consider new relations with wider material worlds. How does this re-making configure new possibilities that are regenerative, not destructive, and that encourage modes of production that are circular, sustainable and more caring? Can we find a new balance between buying materials/artefacts and making them together or for ourselves? Can we seek new relations through materialising differently?

Designers included in the Mat(t)erialities exhibition:

Alexandra Fruhstorfer, Atelier NL (Nadine Sterk e Lonny van Ryswyck), Bastian Beyer + Daniel Suarez, Beate Lendt, Eugenia Morpurgo + Olivia de Gouveia, Futurefarmers, Julia Lohmann, Lucy Hughes, Rael San Fratello, The Home Project (Álbio Nascimento e Kathi Stertzig), The Living (David Benjamin), Vollebak, Violaine Buet, Seçil Uğur Yavuz, Spectroom (Ana Fonseca e Brimet Silva), Studio Klarenbeek & Dros, Studio Nienke Hoogvliek, Swine Studio (Azusa Murakami e Alexander Groves).
Archive of Vibrant Matter

The Archive of Vibrant Matter is a dynamic physical and digital archive of materials, artefacts, living things, matter and transforming practices that will grow during the Biennale. New items will be entered into the archive from the participants of the workshops facilitated at Casa do Design and Museu da Quinta de Santiago, Matosinhos and Quinta da Bonjóia, Porto. We also invite you citizens to add items to the archive. Design your own material expedition; become a material explorer.
Workshops
The Museum of Vibrant Matter comprises three workshops that will explore different material environments in the local territory; collect/gather matter or material samples; experiment with making materials and artefacts; and enter new records into the Archive of Vibrant Matter.
Land

Captivating the Fibresphere – Turning textile fibers into matter again

Casa do Design, Matosinhos

24 – 26 June

Alexandra Fruhstorfer (Austria) and Seçil Uğur Yavuz (Italy/Turkey)

Gathering toxic micro-fibres of plastic from homes and sites across the cities of Porto and Matosinhos participants will convert these back into matter that should not be exploited further.

(English)
River

Caring through Waters – Learning with water for the common good

Quinta da Bonjóia, Porto

6-7 July

Alastair Fuad-Luke (UK/Portugal) and Tiago Patatas (Portugal)

Mobilizing different ways of knowing, participants will explore what multispecies modes of coexistence can be amplified by the transformative powers of water.

(Portuguese and English)
Sea

Laminaria Prophesea – Designing with seaweeds

Museu da Quinta de Santiago, Matosinhos

6-8 July

Julia Lohmann (Germany) and Violaine Buet (France)

Combining ocean literacy and a boat trip with material explorations of algae, participants will develop a new ritual to honour our maritime kin.

(English)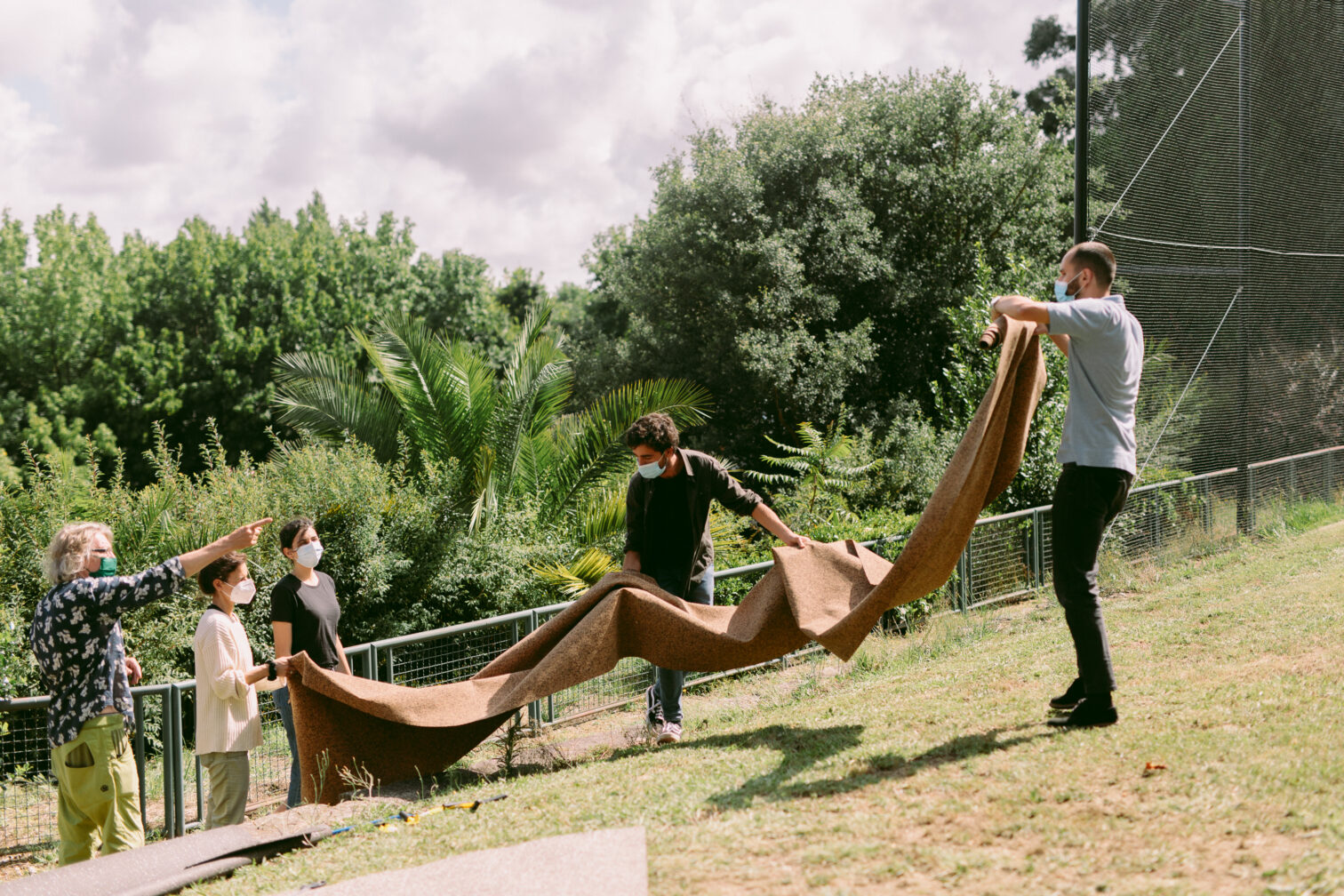 Credits
Curator Alastair Fuad-Luke
Assistant Curator Raquel Pais
Research Assistant Tiago Patatas
Commissioned Designers Álbio Nascimento, Alexandra Fruhstorfer, Eugenia Morpurgo, Julia Lohmann, Kathi Stertzig , Seçil Uğur Yavuz, Tiago Patatas, Violaine Buet
Graphic Design (1234) Irina Pereira, João Castro, Miguel Almeida, Serafim Mendes
Exhibition Design Miguel Flor, Cristina Hora
Assembly Coordination Sofia Meira, Eleonora Fedi
Multimedia Consultant Alexandre Costa
Video and Sound Ana Pinto, Bruno Mesquita
Assembly Assistants Filipe Pinto, José Castro, Carlos Rocha, Alexandre Barbosa, Diogo Oliveira
Acknowledgments Altice Portugal, Ana Marta Marcelino da Cruz Ramos Coutinho, Ana Rita de Sousa Alves Peixoto, Angela Beneton Crosato, Burel Factory, CIIMAR, Centro Interdisciplinar de Investigação Marinha e Ambiental, Centro de Materiais da Universidade do Porto, Constança Pupo Correia Seabra Cardoso, Cooperativa de Produção dos Operários Pedreiros Portuenses, Débora Borges, Erminda Santos, Helena Sant'Ovaia, Ilídio Serôdio, Inês Gonçalves da Silva, Isabel Azevedo, Lipor, Museu Municipal de Castro Daire, Marisa Graça, Paulo Alves, Sofia Duque Lemos, Sofia Vaz, Vera Lúcia dos Santos Sousa
Supported by Corticeira Amorim, Moda Portugal, Valerius 360