Architectures of Love and Correspondence
Wild Care will approach responsibility and matters of care in spatial practices, exploring architectures of encounter, attention and care. The exhibition will gather and present a selection of stories of love, correspondence and engagement that share an ethics of care for both the possible and the impossible, and are powered by an entropic force that resists managerial ruling and cynical withdrawal.
Inspired by Jack Halberstam's understanding of 'the wild' as a resistant ontology and as an "uneven space of aesthetic power", the exhibition will assemble stories of practices that contribute to increasing the sheer amount of care and love in/on the planet, resisting cynicism and toxic irresponsibility.
Combining critical, fictional, situated, and performative perspectives, the stories will address the interplays of matter/care, as nouns and verbs, understanding care as a doing, as a situated ethics and as a politics of architecture, and exploring the fragile power of the anarchic share: an active listening, a generous gifting, an open encounter.
Wild Care aims to rewire our understandings of care by rethinking 'the wild' as a mode of un-knowing and a renewal of our capacity for amazement and bewilderment in the hold of a body-to-body relation to the world and the relays of forms of life beyond the human.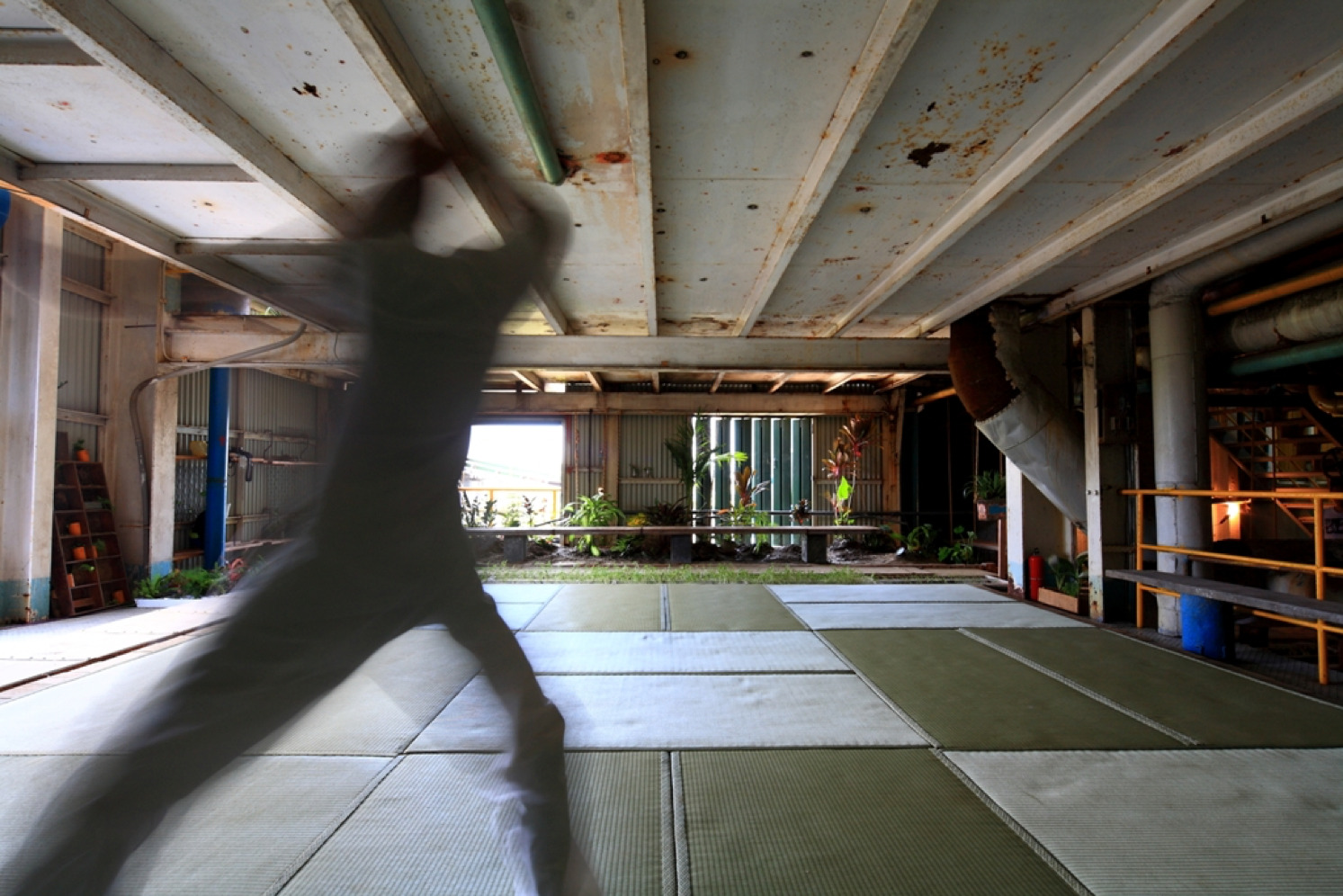 Exhibition
The exhibition showcases 'stories' through texts of various kinds, lengths and registers, accompanied by images that capture some of their core dimensions. Main stories are printed on long, vertical panels which hang at eye-height in the main room of the exhibition. Complementary to these core-stories, there are other complementary images and texts organized above and below them, laterally conceived as immaterial and material side stories, respectively.
Hashtags are included alongside most of the presented content in order to further situated the stories within the landscape of 'wild things' that the project aims to sketch.
Additionally, the exhibition offers a selection of films and clips, both as precise instances of the kind of 'caring wildness' that some of the stories are driven by, and as expansions beyond the limits set by our own project, contributing to creating a diverse and unstable understanding of 'wildness' and 'wild care'.
Wild Talks
The exhibition is complemented with a program of parallel encounters with some of the participants in the stories gathered for the exhibition, as well as a selection of guests engaged in thinking or working with 'wild things'. These encounters are open conversations between the guests and the curators around 'wild care'. There will be a 'wild talk' every Thursday throughout the duration of the exhibition, which will be possible to follow live on the Porto Design Biennale Youtube Channel. These will be held with Pedro Costa, Sofia Neuparth, Marco Casagrande, Aida Sánchez de Serdio, Jack Halberstam and Tomi Hilsee, in that order.
Wild Talks | Pedro Costa

June, 17th – 17h30

Cinema Trindade, Porto

We read Pedro's work in the so-called Fontainhas Trilogy as an incredible form of situated attention and endurance as well as an instance of spatial 'intravention', which puts the lives of people and inhabitants first, and engages patiently and lovingly with their flow. His films offer perhaps the stories most accurately matching the concept of 'wild care' that we are striving to explore, with a slow development of friendships and situated understanding that grounds and constitutes his filmic work in the area. Our encounter with Pedro aims to focus on the work around the Fontainhas Trilogy, and his views on love, care, delay and correspondence as modes of engagement, not only in the process of making films but in relation to life at large.

Pedro Costa is a Portuguese film director and writer. He studied History at Lisbon University and then worked as an assistant to Jorge Silva Melo, Vítor Gonçalves and João Botelho. He made his debut at the age of 30 with 'O Sangue', which marked the start of a striking and highly praised body of work, often focusing on people and their lives at the edges of society. He collected the France Culture Award (Foreign Cineaste of the Year) at the 2002 Cannes Film Festival for directing the film In Vanda's Room. Juventude em Marcha (Colossal Youth) was selected for the 2006 Cannes Film Festival and earned the Independent/Experimental prize (Los Angeles Film Critics Association) in 2008. Cavalo Dinheiro was awarded the Leopard for Best Director in 2014, while his Vitalina Varela was awarded the Gold Leopard for Best Film in 2019, both at the Locarno Film Festival.
Wild Talks | Sofia Neuparth

June, 25h – 18h00

Online

Sofia Neuparth is a dancer, researcher and choreographer from Lisbon, who is the founder and director of CEM – Centro em Movimento, a living space of creation research and education on dance and movement.
Wild Talks | Marco Casagrande

July, 1st – 18h00

Online with live streaming on PDB's Youtube

Marco has been working for many years in spatial projects at the edges of architecture, art, pedagogy and cultural anthropology, always imbued by a careful engagement in and with the environments and situations he works with alongside a wild/open approach and a profound respect for the magic the process of making and construction. We are excited to discuss the power of 'the wild' with him, both through his astonishing work and his reflections and views on the propositions of the exhibition. Our talk with him will be primarily focused on his experiences and stories in relation to two main projects: a small, ephemeral nomad sauna; and the larger and longer lasting 'Ruin Academy', both involving various 'wild' dimensions as well as pedagogical threads.

Marco Casagrande is a Finnish architect, biourbanist and social theorist. He is currently a Professor at Bergen School of Architecture in Norway. From the early stages of his career Casagrande started to mix architecture with other disciplines of art and science landing with a series of ecologically conscious architectural installations around the world. He views architects as design shamans merely interpreting what the bigger nature of the shared mind is transmitting.
Wild Talks | Jack Halberstam

July, 8th – 18h00

Apart from beautifully ground-breaking and completely 'wild', Jack's work is one of the primary references for the exhibition and has inspired and informed previous interventions and threads of work leading to it. It is therefore both an honour and an exciting adventure to get to share a while with him to discuss wild things, destitution, unmaking, unlearning, as well as the relations these things might have with architectures of love and correspondence. It's astonishing we are able to carry out this encounter in real life, physically meeting in Porto in spite of the ongoing insistence on so-called 'social distance' and its erosion of intimacy and togetherness.

Jack Halberstam is Professor of English and Comparative Literature and the Institute for Research on Women, Gender, and Sexuality at Columbia University. Halberstam is the author of many books including: Female Masculinity (Duke UP, 1998), In A Queer Time and Place (NYU Press, 2005), The Queer Art of Failure (Duke UP, 2011), Gaga Feminism: Sex, Gender, and the End of Normal (Beacon Press, 2012) and most recently Wild Things: The Disorder of Desire (Duke UP, 2020).
Wild Talks | Aida Sánchez de Serdio

July, 15th – 18h00

Online with live streaming on PDB's Youtube

Aida's work of decades has operated along the edges of collaboration and friction, often in relation to the development of critical pedagogies and modes of learning-with others deeply engaged with specific and situated conditions, and largely associated with artistic practices and processes. There is wild core in all her work that we are truly inspired by and we just want to talk with her and get to know more. She has just published a book on non-affirmative art pedagogies that invokes 'imperfection' and uncertainty as crucial vectors in her understanding of learning-with and that we are very excited to discuss further as well as getting to hear about her views on the concept of 'wild care' we are proposing.

Aida Sánchez de Serdio is an educator, researcher and cultural worked in the fields of visual culture, pedagogy and collaborative art practices. She is currently Assistant Professor at the BA in Arts of the Universitat Oberta de Catalunya, and has previously worked as advisor for the department of Educations and Publics at Museo Nacional Centro de Arte Reina Sofía in Spain, and as lecturer at the Faculty of Fine Arts of the University of Barcelona, and at Umeå School of Architecture in Sweden. She has collaborated with and been a member of a number of educational and cultural projects such as Friction Pedagogies at Fundacio Joan Miro, and Contact Zone at La Virreina Centre de la Imatge in Barcelona. Her main research field is that of collaborative practices within the arts and culture, understood as a place of knowledge production, political debate and social transformation.
Wild Talks | Tomi Hilsee

July, 22th – 18h00

Online with live streaming on PDB's Youtube

Tomi has been engaged with architecture, design, history, collaborative occupation and a myriad of wild projects involving caring and loving with/others. They recently led an experimental project to initiate and develop 'the tower of love', an unfolding timber construction of rescued materials destined to hold 'us' and enable various forms of learning and intimacy. We are excited to meet and talk about modes of making, wild care, collaboration, the limits of architecture and the violence of spatial domination. We hope there is also time for some reflections on memory, loss and mourning, as well as to discuss some of the propositions embedded within the 'Wild Care' project.

Tomi Hilsee is proudly unserious and kept busy encountering friends late into the darkness and mud, something they would call a politics of endurance and engagement. They currently teach at the Willem de Kooning Academy in Rotterdam, and they cooperate at the Doe-Het-Zelf Werkplaats in Rotterdam Noord, The Netherlands.